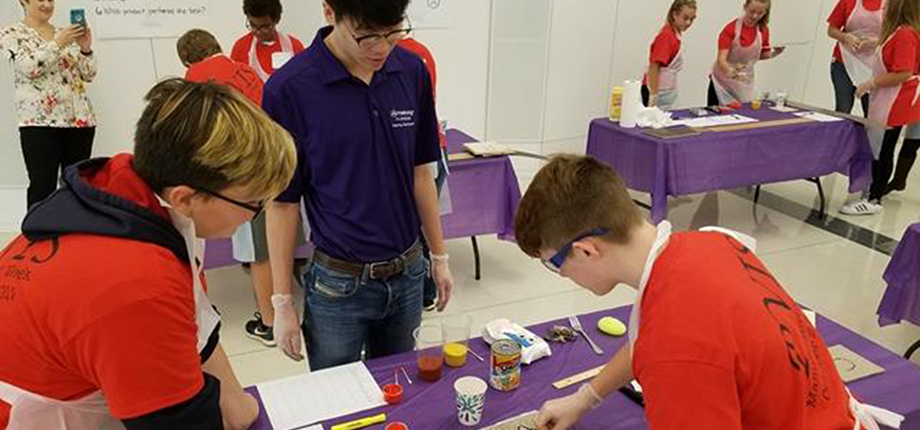 Education, and by extension, educators, are at the core of this effort by LancasterMakes to promote manufacturing and other trades as viable and respectable career paths for students leaving high schools and technical schools.
High School
Educators from the 16 school districts in Lancaster County are working to connect the kids with the correct curriculum to thrive in manufacturing plants or in the skilled trades environment. We are proud to have as a partner Lancaster County Career & Technology Center. LCCTC is working hard with students from the county to prepare them for jobs in the new economy. Their students can choose from a number of programs, including construction trades, cabinetmaking, advanced manufacturing, metal fabrication, precision machining and more.
LCCTC shares some interesting insights on its website, including 27 percent of workers who hold less than an associate's degree, including licenses and certificates, out-earn the average bachelor's degree recipient. This is based on data from the Association of Career and Technical Education.
We are happy to report every school district in Lancaster County participated in MFG Day 2017, a national effort to promote manufacturing careers. Identifying and developing students who demonstrate an aptitude for making things starts early. Students who show an interest in the arts or some other endeavor that requires working with their hands might make excellent candidates.
As Karen Triano Golin wrote for Lancaster Online:
The National Center for Education Statistics estimates that 3.5 million students graduated high school in 2017. Of those approximately 68 per cent will enroll in college immediately if current statistics continue to hold true. (Source: National Center for Education Statistics) That leaves over 1.1 million graduates. What's their plan?
MFG Day is an important part of the education piece. Students get the opportunity to visit local manufacturers and get a glimpse inside the factories to see exactly what they are like. These plants are driving innovation and feature high-tech equipment and processes.
If you are in education and want to learn more about LancasterMakes or become involved in MFG Day, reach out to us on our contact page. We would appreciate the opportunity to connect with you.
Also, May 11, 2018 is the last day to register to be part of MFG Day 2018. You can register here.

---
College
While not everyone needs a college degree, the Association of Career and Technical Association reported more than 88 percent of career and technical education students will continue learning in a post-secondary school. Partners like Thaddeus Stevens College of Technology, an Aspen Institute Top 120 two-year college, offers additional training and education for those who might want to seek further technical training. Nearly 900 people are enrolled in 22 high-skill, high-wage technical programs. It is Pennsylvania's only state-owned, two-year college of technology.
TSCT students have a broad range of subjects in which to earn associate's degrees, like carpentry, collision repair, software engineering, computer networking, electronic engineering, electrical work, graphic design, HVAC, mechanical engineering, metal fabrication, welding and more. There are certificate programs in construction technology, welding, masonry, and general machine. The school also offers short-term programs in facilities maintenance, metal casting, and welding technology.

---
Lesson Plan Library
Below you will find lesson plans to help teachers explore the field of manufacturing and technology. Click on the lesson plans to view details.